03 mars 2014
Deux nouveaux biscornus sont nés quelque temps.
Je les ai finis avec des petit perles en verre et des fils à crochet pour la décoration.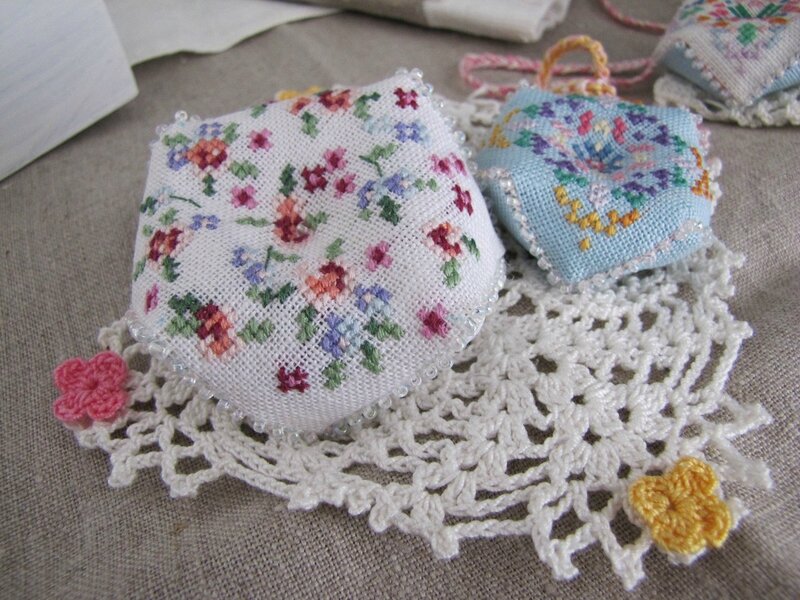 Deux fleurs au crochet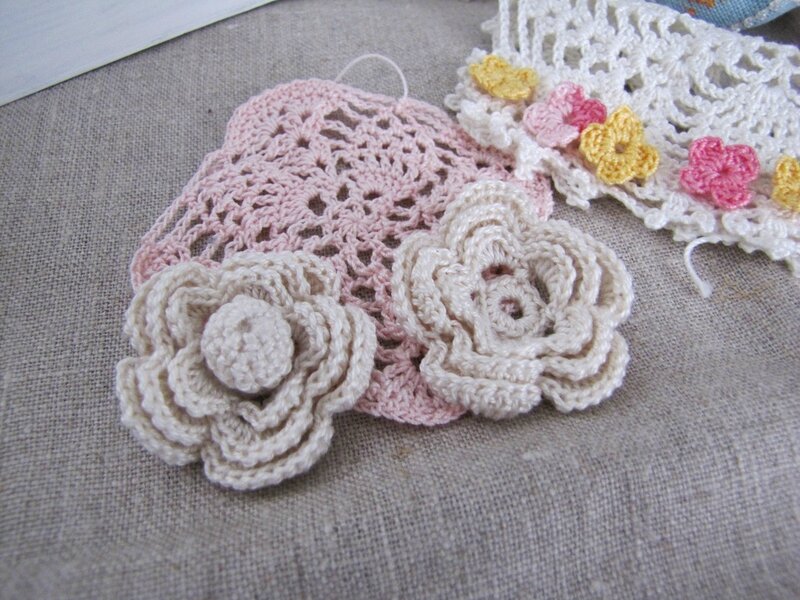 Ma petite famille de biscornus a beaucoup couleurs différentes.
Les trois biscornus je les ai fait la dernière fois, le meme décoration avec des bijoux et fils.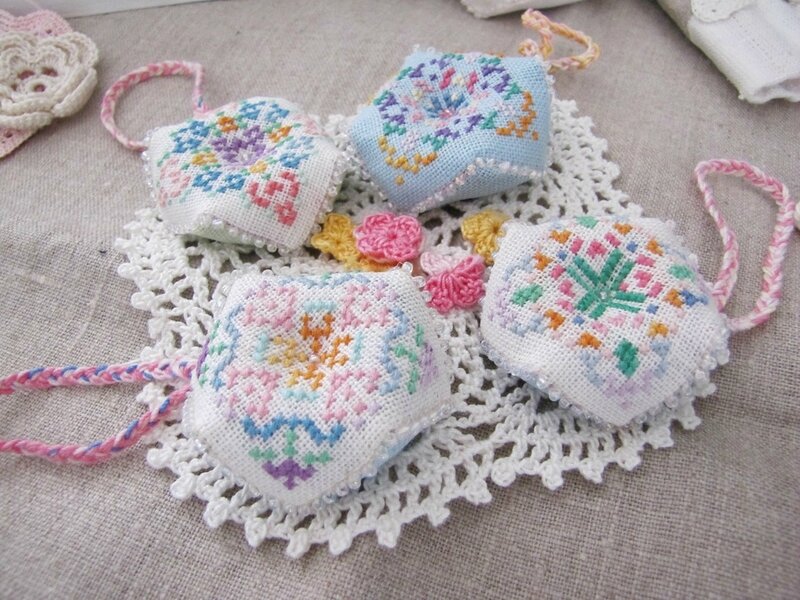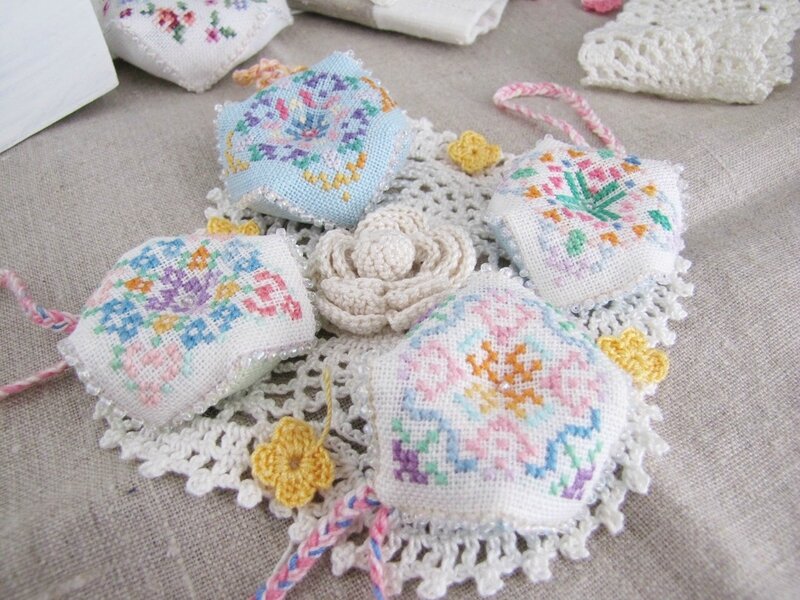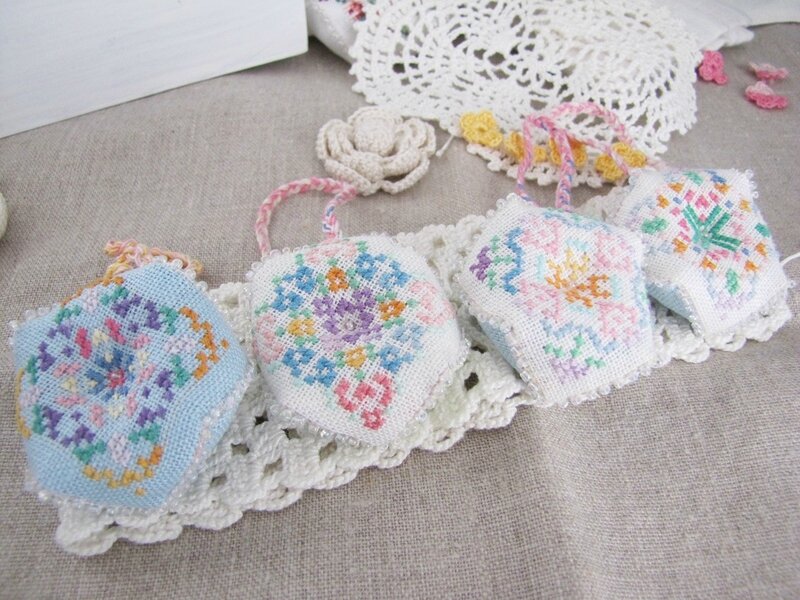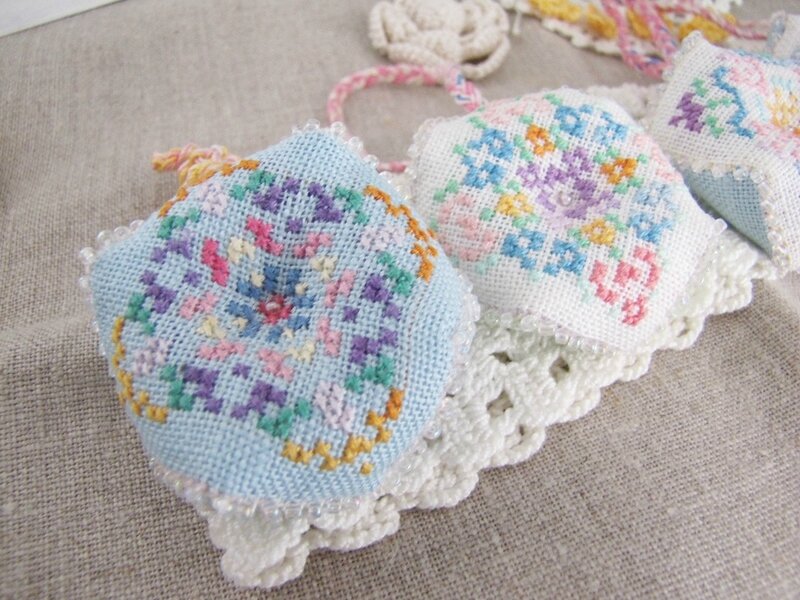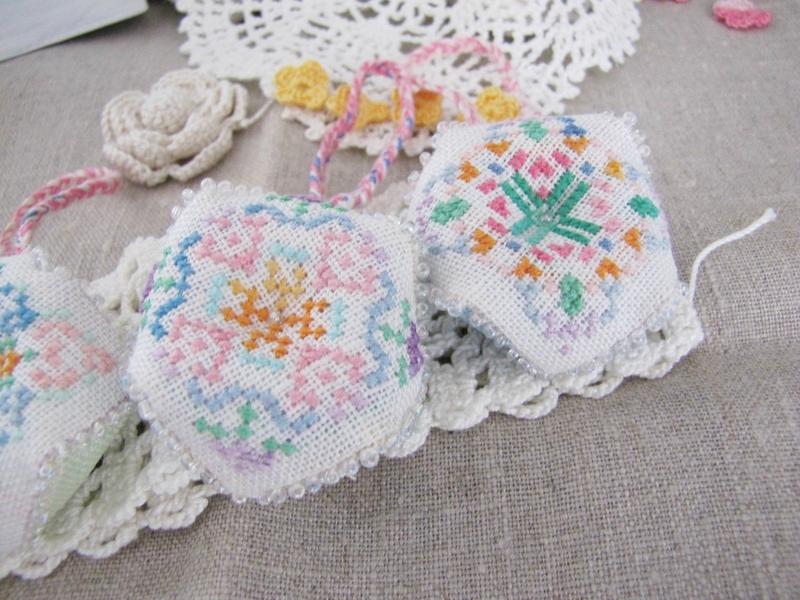 Un coussin pique-aiguilles re-look

et maintenuant il est un joli mignon biscornu.
Je suis très contente et excité de la déménagement en Italie.
Un nouveau pays avec la culture différent et une nouvelle langue pour la nouvelle vie.
J'ai fait des visité de bloggers brodeuses italiens,j'ai vu beaucoup de la broderie blanche.
La broderie blanche est une broderie je ne connais pas très bien. j'ai commencé cette petite lettre C pour essayer.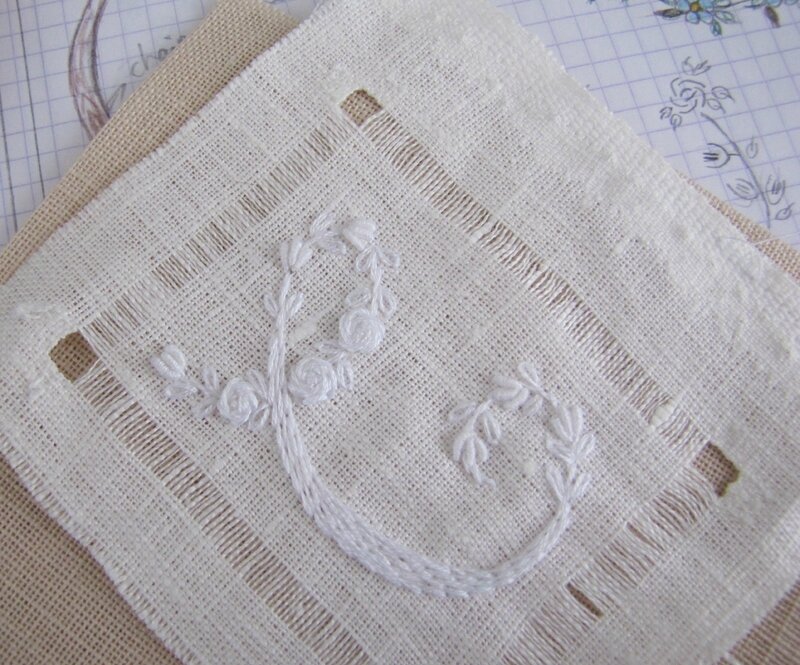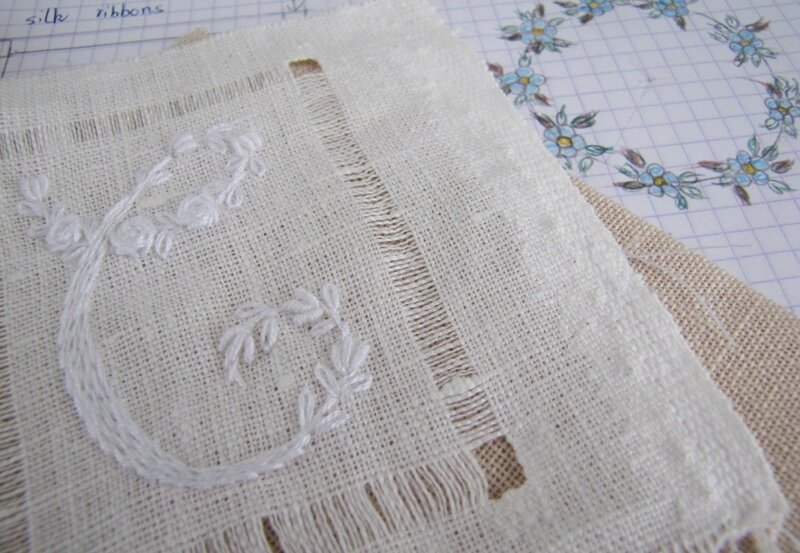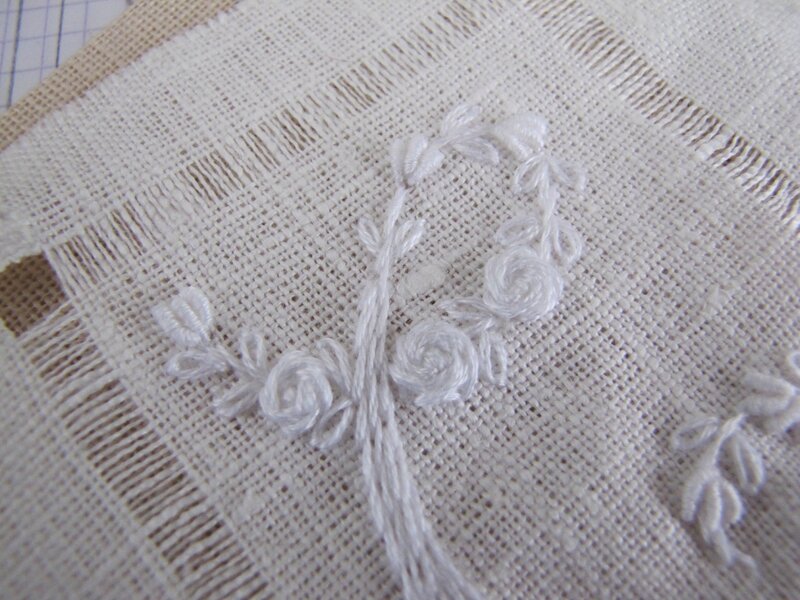 18 décembre 2013
A bit busy and lazy with my stitching these weeks, also the new interest of learning hardanger and white work and embroidery took most of my leisure time right after I put my baby boy to sleep.
Here are some crochet pieces I did weeks ago.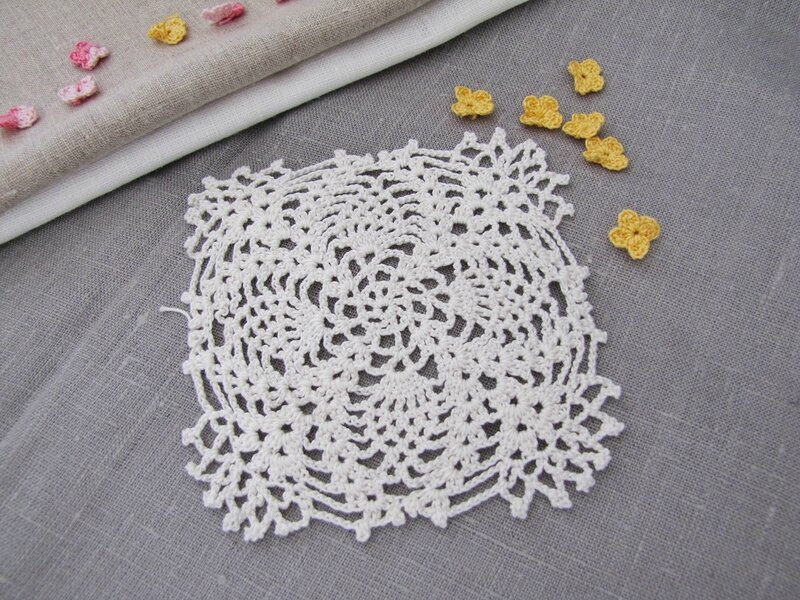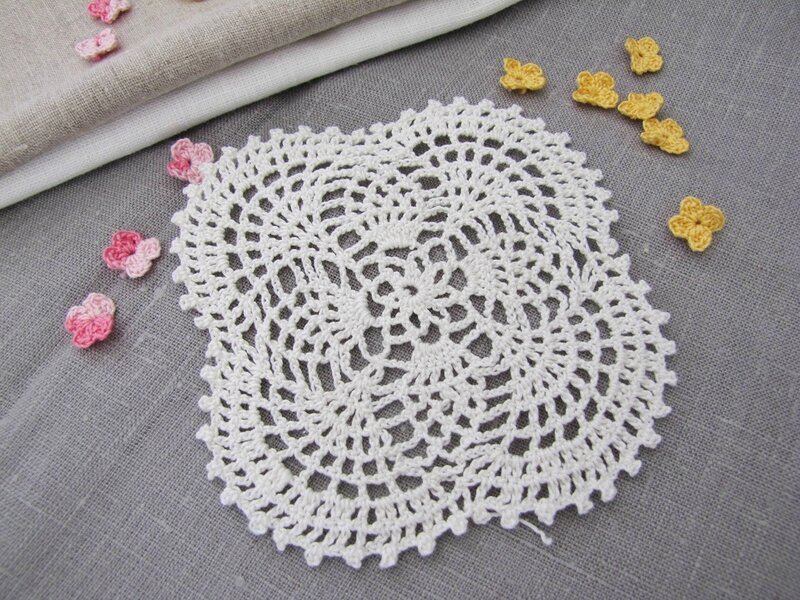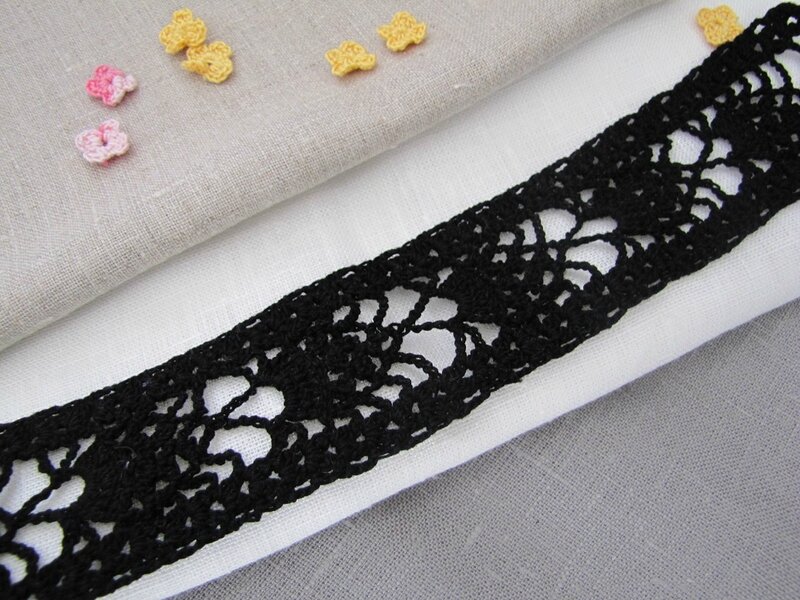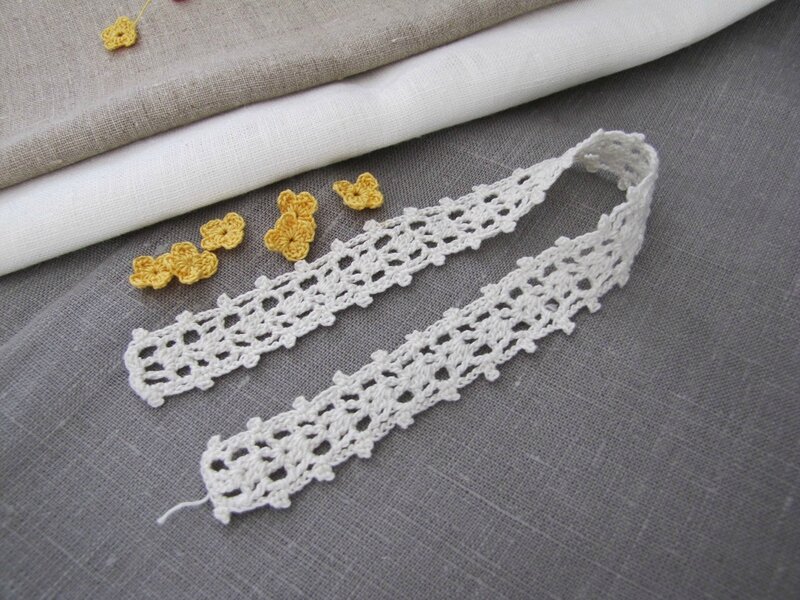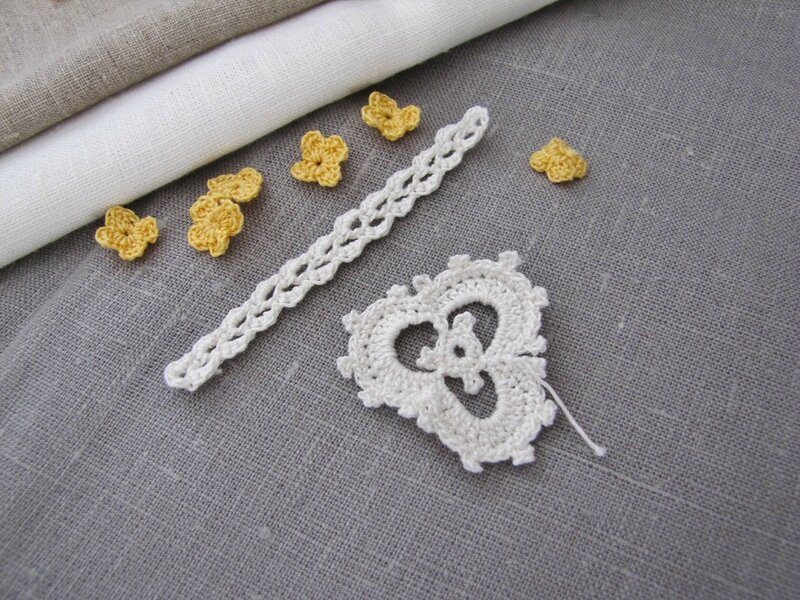 11 novembre 2013
After my kitchen accident of small cutting of my finger, forced to rest around a week without doing any needle work.
I finally felt a bit better few days ago and picked up back my ongoing stitching of a new collection of biscornus.
Main purpose was to finish the old stash color variation flosses I bought years back.
Ma nouvelle collection de biscornus j'ai finis avec les fils color variation j'ai acheté quelques années.
最近因为手指割伤,在休绣了一周多,见手指的伤痛逐渐减少,就慢慢完成了一些小包子。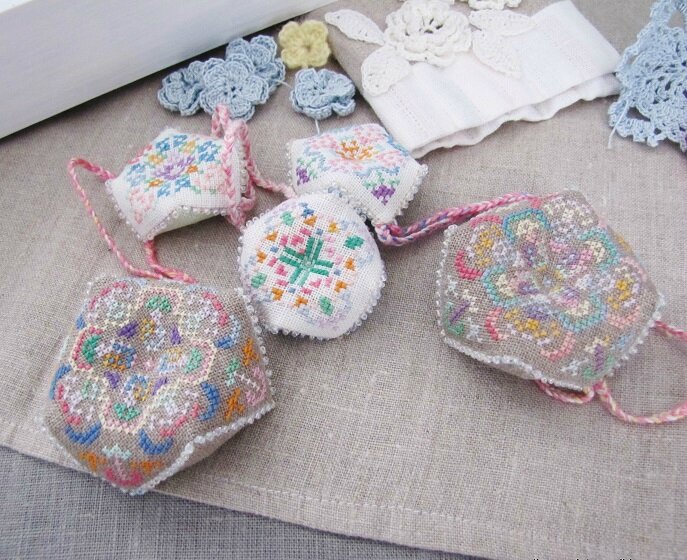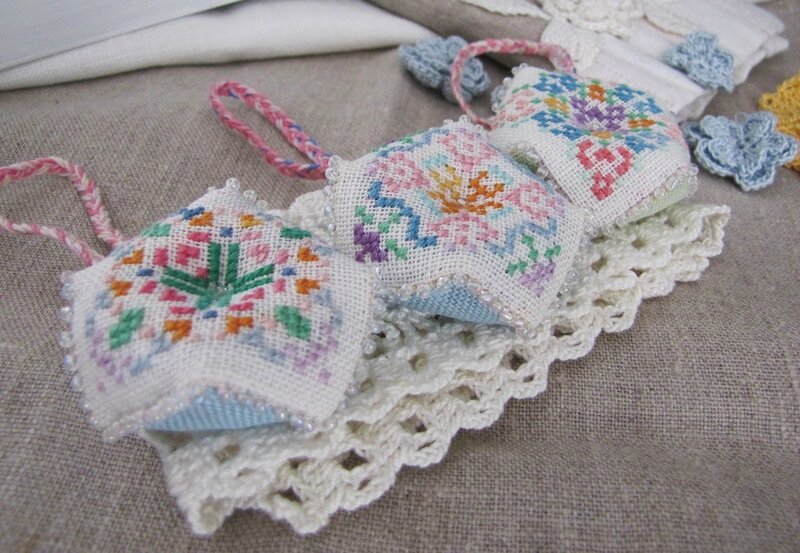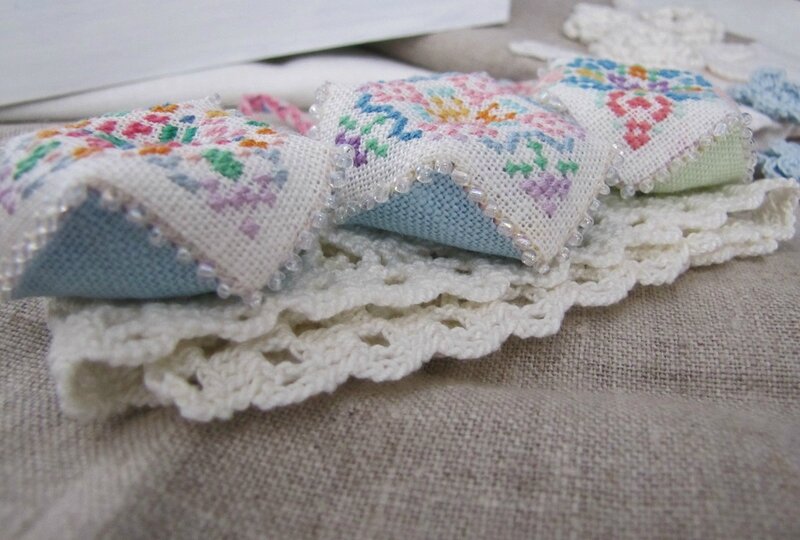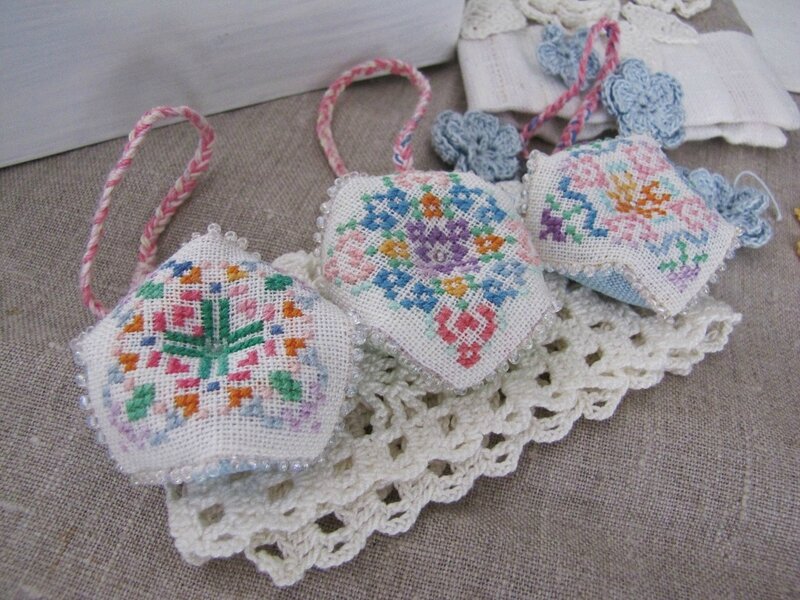 I only had very little range of colors left to be continuing the stitching.
So it may come to the result that every biscornus' color has the similarity.
Il n'y pas beaucoup de couleurs pour la broderie, je suis un peu déçu le résultat quand j'ai fini.
因为颜色不多,可能色彩上的效果不会有太多的变化。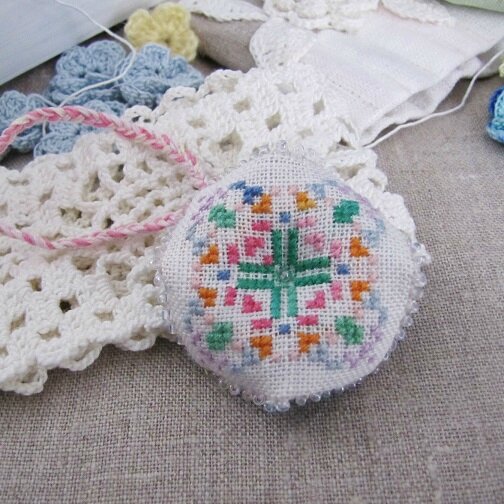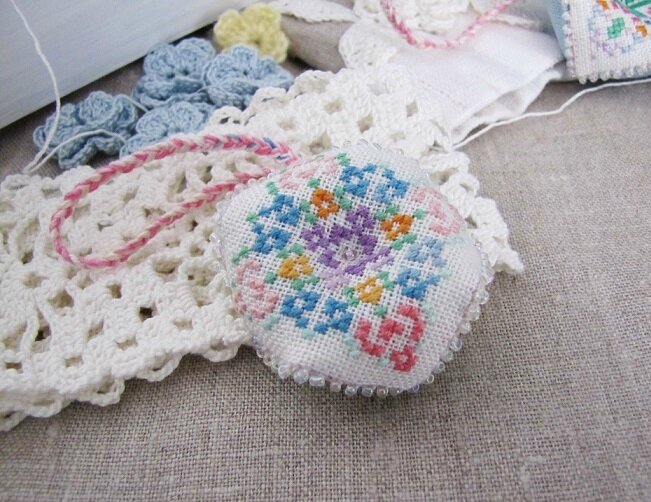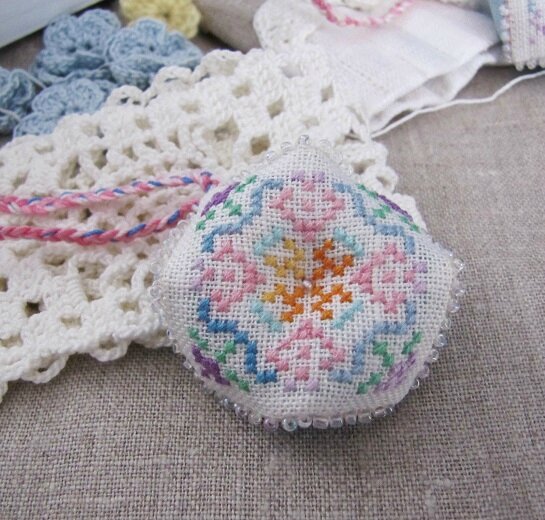 First try of used natural linen color for biscornu.
The original plan was to make two- sided up-and-down biscornus.
But it turned out to be a bit eye-fussy, so I had them made into two individual biscornus.
La première fois d'essayer le lin couleur naturel.
第一次用原色麻布来做包子。本来是想双面的立体式挂饰,可是在缝合时发现效果一般,就分开做两个包子。
我对这次的原色麻布包子的满意程度一般,可能是我选图选得不好。色彩出来的效果分部得很散。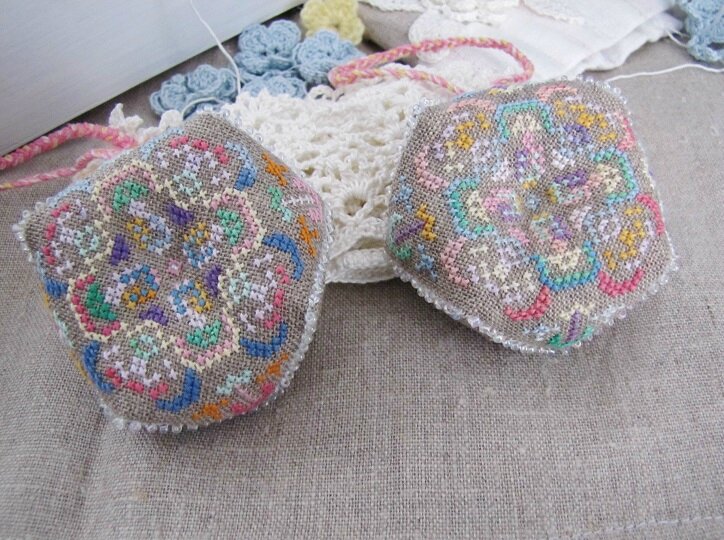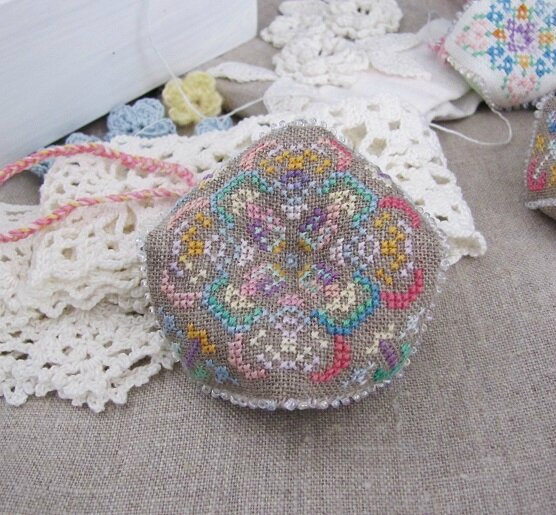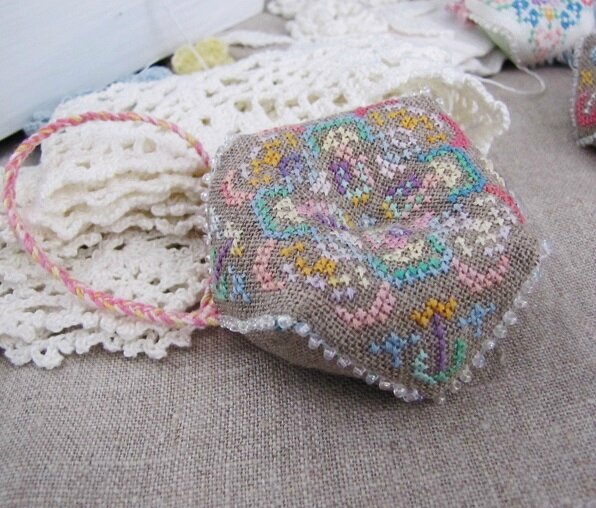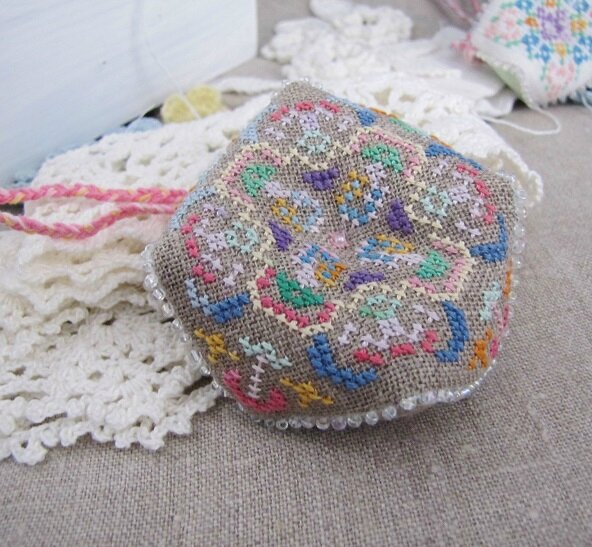 Multi-colored crochet thread flowers
Les petites fleurs au crochet avec les fils multi- couleur
用彩虹线钩的一些双层小花,纯粹是实验小品。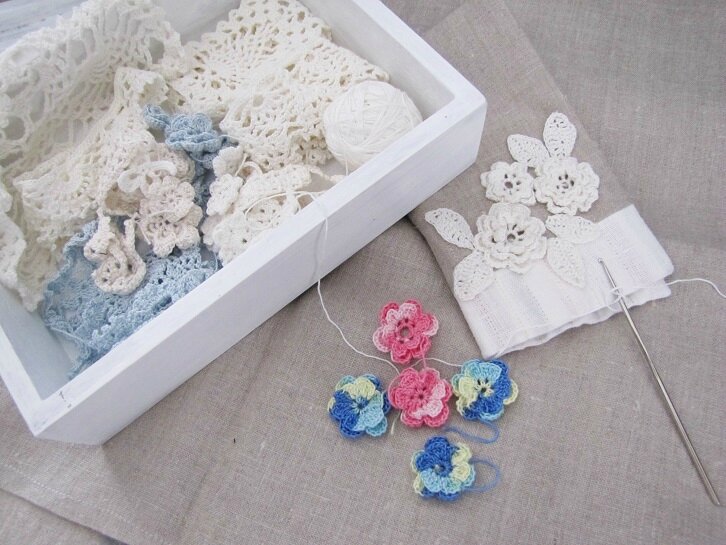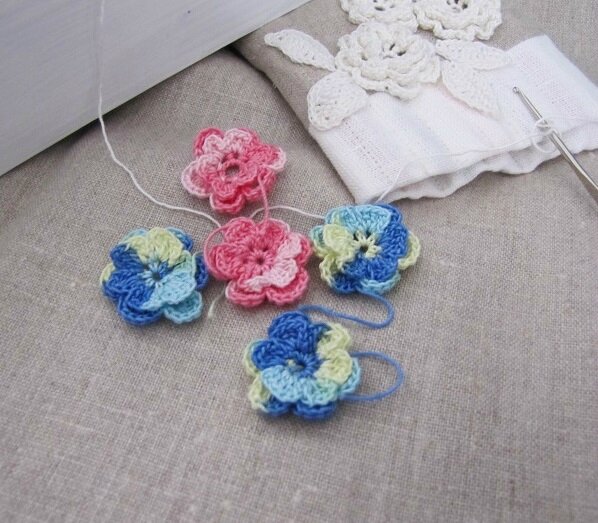 Furry knitting yarn crochet flower
Une fleur au crochet avec le fil à tricot
用毛毛线钩的小花,也是一个实验小品。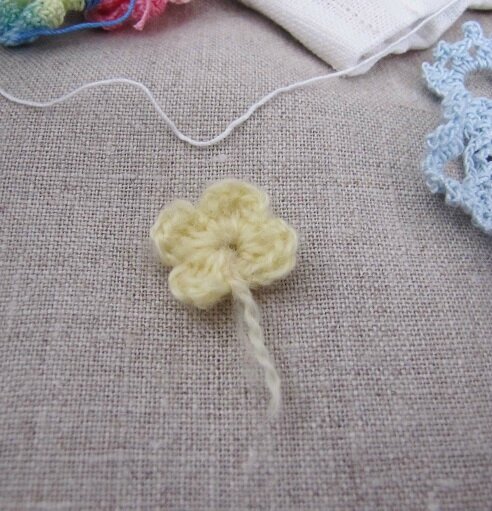 Une dentelle crochet au fils noirs
A crochet border with black crochet threads
钩针实验之黑色的钩针花边。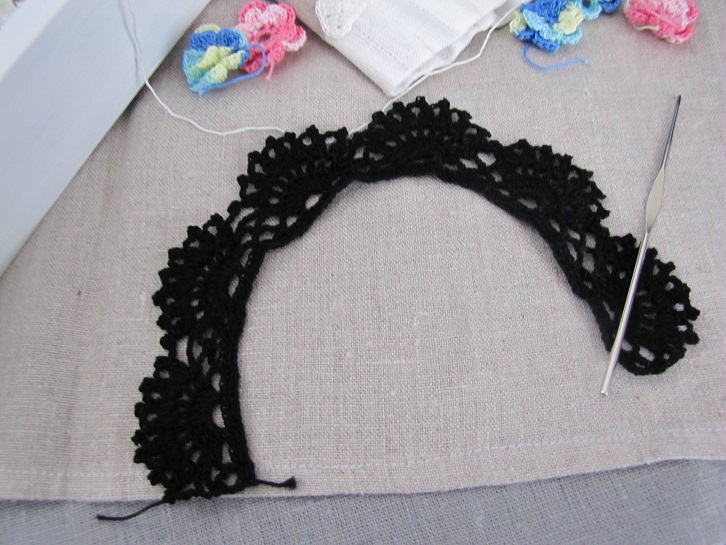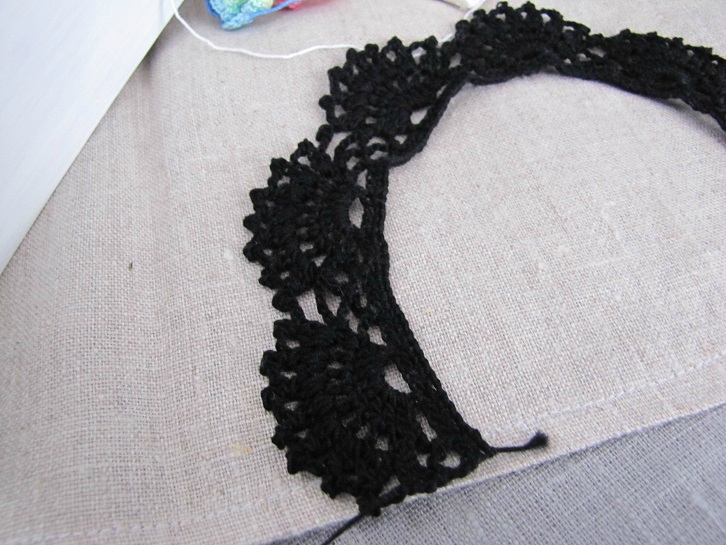 Trois petits cadres pour maman No.2 « Ange »
chart - De Fil En Aiguille N° 69
小天使的爱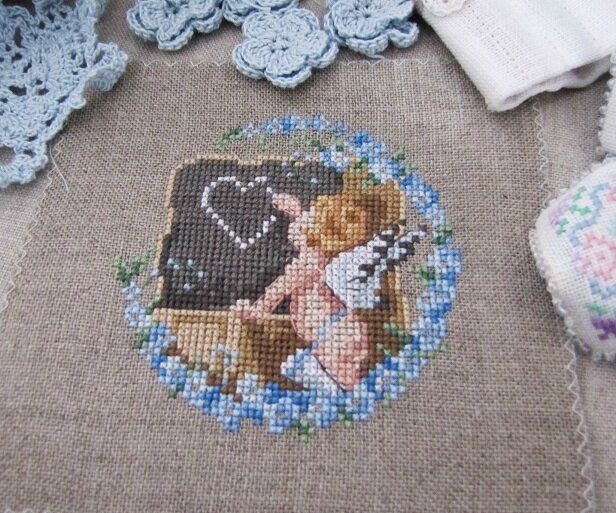 Frist piece of this year Christmas stitching - Barbara Ana "Deer Friend"
Pour la broderie de ce noël, j'ai commencé la créatrice Barbara Ana "Deer Friend".
今年圣诞节绣绣的第一个成品。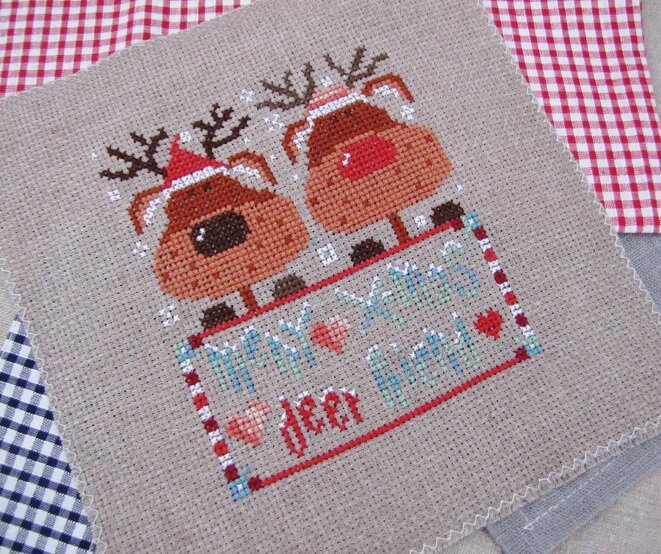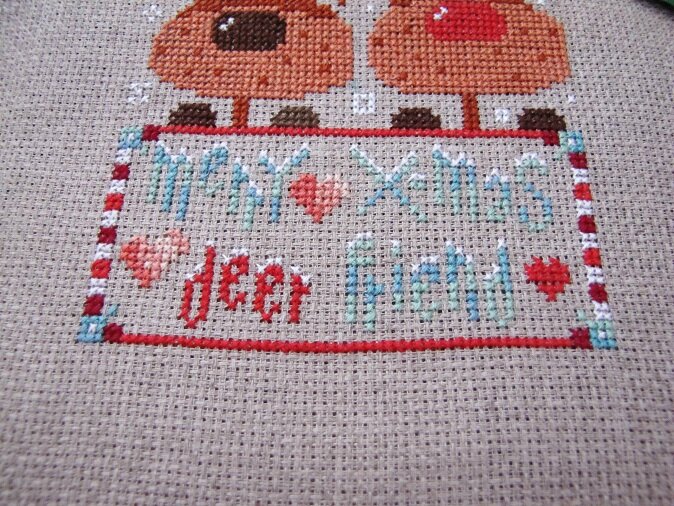 17 octobre 2013
Bonjour
Aujourd'hui je présents mon nouveau pochette pour crochet je l'ai fait depuis hier. Dit Bye Bye de mon vieille pochette patchwork rose que je ne l'aime pas du tout.
After spending me the whole afternoon in front of my sewing machine, finally managed finished my linen crochet hook case. Which I have disliked my old pink patchwork for ages can eventually say "Good Bye".
越来越看不顺眼我旧的钩针小包,用了一个下午的时间做了一个新的麻布拼布钩针小包。
Pour faire le tissu lin décoratif, j'ai choisis le crochet irlandais. Juste les petites fleurs et quelque feuillage, pas trop difficile.
I was very amazed the elegant vintage effect of Ireland lace crochet while reading a Japanese crochet book, have decided to give it a try.
不想太过浓重的装饰,正好最近大爱清新优雅的爱尔兰蕾丝钩针。就慢慢钩了一些小花和叶子来装饰小包的封面。
Un jolie bouquet de fleurs de commencer une bonne journée.
A small flower bouquet for a new lovely day.
阳台花园冷天下的小彩花,真的很惊讶它的耐寒能力。
Les sachets et berlingots de lavandes
Petit détails
Une grille très amusante de Barbara Ana « Thinking About You »
Little stitching of this funny piece design by Barbara Ana. I have the colors changed according to my preference.
Regardez les yeux de la carotte et le lapin, ils sont pleins d'humour.
同绣的Barbara Ana的卡通图,非常搞笑风趣的卡通图,颜色上我作了一些更改。
Petit lapin sur les fleurs de balcon et enfin je vous souhaite une bonne soirée.
For the la last, my decorative bunny in flower land and wish you all a adorable evening.
花丛里的小兔。。